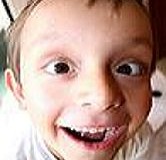 Pediatric Massage
Pediatric massage is becoming more and more commonplace. And as research continues and the science behind what happens mentally and physically during a massage is examined, the more pediatric massage is being brought into healthcare. Many hospitals and pediatricians already utilize pediatric massage as part of their treatment. Although there are benefits for any child to receive a massage, research is proving that pediatric massage is especially helpful for children and adolescents with specific needs:
Typical Conditions
Mental

Physical

Anxiety
Anger
Stress
ADD/ADHD
Autism Spectrum
Depression
Fear
Post Traumatic Stress Disorder (PSTD)
Sensory Disorders

Asthma
Burns
Cerbral Palsy
Downs Syndrome
Growing Pains
Migrain
Muscular Dystrophy
Orthopedic Injuries
What To Expect
Before bringing you child for their first visit, a Pediatric Client Intake Form and a Healthcare Provider Release Form must be completed. Plan on an extra 10 to 15 minutes to review your child's forms and to talk about the best approach to helping your child. There are also a few protocols that are followed for every pediatric massage:
The massage does not start unless the child wants it to
The massage will end if the child wants it to
The parent must remain in the room during the massage
If your child falls asleep the massage will end. He/she has to be responsive as to whether or not they are comfortable with the parts of the body being massaged.
How It Works
We tailor our massages to meet the exact needs of your child.  The length of time per massage varies upon age and needs. A 15 year old boy with a muscle-related sports injury will not be treated the same as a 6 year old boy with ADHD. Typically:
2-5yrs of age is 15-20 mins
6-12yrs of age is up to 30 mins
13-18yrs of age up to 60 mins
Depending on the circumstances, best results may be found by increasing or decreasing the frequency of massage. Research has shown that kids with sensory disorders have most benefited by receiving two 15-20 minute massages per week. For more information on the benefits of massage see our Benefits Page.
What it Costs
Our rates are not set in stone due to the ever-changing needs of individual clients. Maximum rates are:
30 mins = $45.00
60 mins = $80.00
90 mins = $120 (Mom and Dad only)